When I look at the pictures of our yard a month ago, I'm surprised by how quickly things change. I think that's one thing I love about being outside—that I'm never quite sure what I'll find day to day.
I guess next up is the back yard.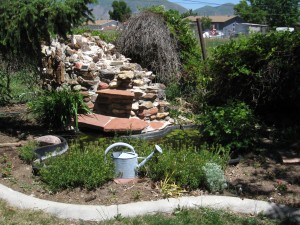 From what neighbors have said, the woman who owned our house for years and years absolutely loved her back yard. She would spend her evenings here listening to the waterfall and watching birds and flowers. It makes me sad that it's only a reminder of that now. The water feature, as you can see, no longer works. There is a pond at the bottom of it (behind the watering can), but it's covered in algae, and it smells terrible. There are many lilies (the greenery of which you can see on the left of the water feature), but most of them don't bloom for some reason. I think it's that they don't get much sunlight, mostly due to the enormous spruce tree branch that hangs low over that side of the flowerbed (visible at the top left of the picture). And the huge dead thing is a honeysuckle vine. It's thriving on the other side of the fence, but this side just looks sad. Anybody know how to prune it without killing it?
In an attempt to make the whole thing less sad this year, I planted a bunch of impatiens, thinking they'd be a good fit for a very shady spot. Apparently they weren't because all but three are now dead, and those three are barely holding on and definitely not blooming. It seems that even daily watering there is not enough to keep impatiens alive in this heat. I wonder what would have been better.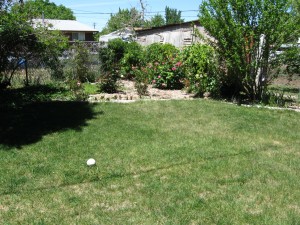 Here is another corner of the back yard. Again, it seems like a reminder of a beautiful yard rather than a beautiful yard itself. The roses are pretty, and prettier this year because I pruned them heavily last fall and again in the spring (because I didn't finish in the fall before it got cold). I also took out a LOT of Virginia creeper that was enveloping two of the rosebushes and morning glory that was chocking out two others, plus a bunch of other weeds. The bush on the right is a Rose of Sharon bush, and I love it around this time of year. It's not blooming in this picture, which was taken in June, but it's pink and purple right now. It's one of my very favorite things in the yard. (The 50-year-old shed behind the roses is not one of my favorite things.)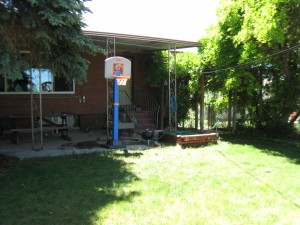 This is looking back toward the house. There's a very old, very heavy picnic table that allows us, for the first time ever, to entertain outside. I love to sit under the covered patio in the heat of the summer and watch the kids play in the sprinklers or the sand table (under the patio) or whatever.
Did you notice the yellow-green wisteria plant on the right side of the last picture? It's enormous, practically a tree. It tries its hardest to take over the back doorway, the roof of the house, one of the windows, and the crab apple tree adjacent to it. Sometimes I wonder how heavy it is and if I should be worried about it causing damage to the house or the tree. It sure is pretty in the springtime, though, when it hangs with large clusters of purple flowers that smell like heaven. Here's another picture looking up into the trellis it climbs:
One cool thing about our back yard is that it is one of the only houses in the area that has large, mature trees. The two spruce trees back there have to be at least as old as the house (about 50) and are possibly even older. There are not words to describe how enormous they are. When I tried to take a picture, I found I couldn't fit all of one tree in the frame, even lying on the ground. Here's my attempt: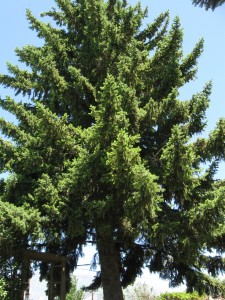 Those two trees mean that our yard is a favorite for birds. When we first moved in, I was shocked by how noisy it was near the big picture window in the living room—birds chirping, chattering, and sometimes flying right into it. There's a triple-decker birdhouse that's nearly always occupied by at least one bird family, and that's great to watch. There are also nests up in the trees. I'm not a huge birdwatcher, but it's fun to watch them all the same.
In past years, I've not been as good about keeping weeds down in the back yard as the front, and I've never planted anything back here until this year. I don't know if it's because I weeded early and thoroughly or what, but weeds have been a far smaller problem this year.
I love the shade back here. When it's too hot to be anywhere else outside, we can play in the back yard.
Next up: the back back yard. It's where I spend most of my time outside lately because of the garden. I might be a teeny bit obsessed with it.