We hosted Thanksgiving at our house last year, and my mom brought out some decorations to supplement the very little I had. Among these were some pretty pumpkins that dressed up our mantle nicely. After the holiday was over, the pumpkins ended up in our garden to rot. I can't totally remember why I did that.
Anyway, last winter and spring were unseasonably warm, and the last frost was sometime at the end of March. About that time, dozens and dozens of pumpkin seeds started sprouting. Knowing pumpkins are spreaders, I picked 98% of the ones that came up (yeah, I probably have picked at least a hundred by now). I left the two biggest plants in my garden, and WOW are they big now.
One of them is producing beautiful carving pumpkins, large and round and orange. It currently has grown two pumpkins to maturity and is working on at least SIX more in varying stages of development. Apparently pumpkins usually just grow the two, sometimes grow as many as five, and rarely grow more than that. I have eight, people. Some have suggested that I pick the smaller ones, but I'm not super worried that the medium-sized ones won't mature if I don't. One of them is the size of a small jack-o-lantern already, and two more are cantaloupe-sized. By October, all three should be as big as the two big ones, I'd guess. The next few are more iffy, but I'd be thrilled to walk away with five pumpkins.
Anyway, this post isn't really about the pumpkin plant. It's about the neighboring plant, which apparently is a hybrid. Instead of pumpkins, it grows these: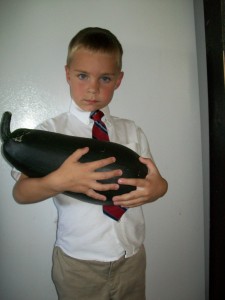 So far I've gotten four out of the plant. The fourth I've left growing to see how big it ends up and whether it ever changes color. I doubt it will.
Anyway, I had to do something with this mystery vegetable. Could I treat it like a zucchini and make zucchini bread with it? Could I treat it like a sugar pumpkin and puree it for pumpkin bread or muffins? Could I eat it plain or would it be too tough, bitter, or tasteless?
I tried asking the Internet first, but all I really found out was that a) pumpkins and zucchini like to pollinate each other, b) you're more likely to get a hybrid if you plant seeds from your Halloween pumpkin than if you plant store-bought seeds, and c) this particular hybrid is usually called either a pumpkini or a zumpkin, depending on which plant is the "mother."
So it was up to me to figure out how to use my pumpkini. I figured I'd try both ways and see what the results were. First I cut the pumpkini in half.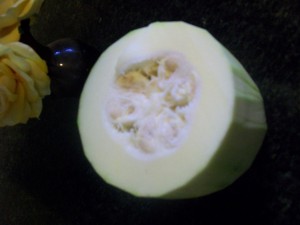 As you can see, white flesh like a zucchini, but kind of hollow with the seeds and "brains" in the center like a pumpkin. Raw, it tasted, well, halfway between a pumpkin and a zucchini. Fancy that!
I peeled and deseeded each half, chopped the first half, and placed the chunks in boiling water. About five minutes later, I had this: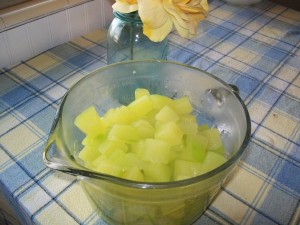 I took the boiled cubes of pumpkini and pureed them until they looked like this: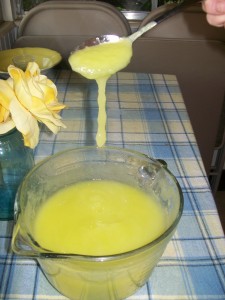 As you can see, it's quite a bit runnier, if you will, than canned pumpkin usually is. I was really worried at this point by the color. Would my "pumpkin" muffins be greenish? Would anyone want to eat them? Would the extra wateriness be a problem? But after I'd added all the other ingredients, the batter was a much more appealing light tan. The muffins baked up great and super moist, and they were gobbled up (and shared with neighbors and friends) in a matter of days.
I have since used this method of preparation to make ten loaves of pumpkin(i) bread, which were even better than the muffins. Keep in mind that those ten loaves came from only TWO pumpkinis. Yikes.
Back to the original one, though. I shredded the other half like I would have done with a zucchini. This took forever, so I'm not sure I'll do it again with such a large vegetable. I then made a chocolate zucchini bread recipe I'd tried and loved before. This too turned out great. I was worried that the firmer flesh of the pumpkini would translate into "crunchy" chocolate bread, but no shreds were discernible in the finished product.
The moral of the story is that the humble pumpkini is a very versatile vegetable. You can't exactly saute it in oil with onions like you can with zucchini, and I wouldn't add it to a salad raw, but if you find yourself in possession of one, the baking possibilities are many. Post a comment if you've had success with a zucchini-pumpkin hybrid (or if you just feel like posting a comment!). I hope that the next person like me who doesn't know what to do with one can find this post helpful.