Technically, Lego turned two on Friday, but I haven't had a chance to blog about it yet. I think he had a fun day, even though I had a prenatal appointment in the morning, which was probably not his first choice of activity.
The celebration started Thursday night, when my brother and sister came to celebrate my sister's birthday. We decided to let Lego open a couple of presents while they were here, one of which was a really cool ride-on car from my parents. Here's a picture of him trying it out.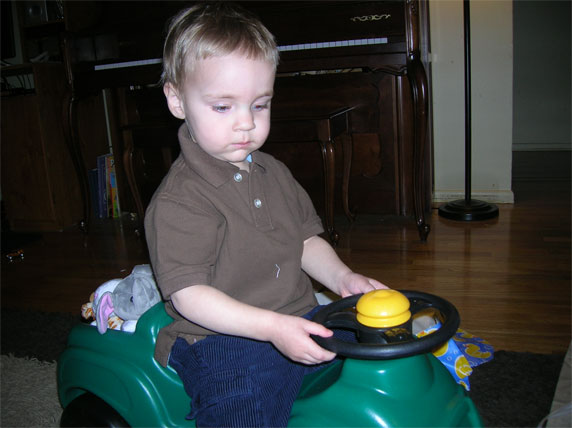 He also opened some clothes from them (he's wearing the shirt in the car picture).
On his birthday, we played outside, blew up balloons, decorated his cake, and had a German pancake with cinnamon apples for dinner. Jon Boy's family came in the evening for cake, ice cream, and more presents. Lego thought really hard about blowing out the candles, but he got a little scared and asked for Mommy and Daddy to help.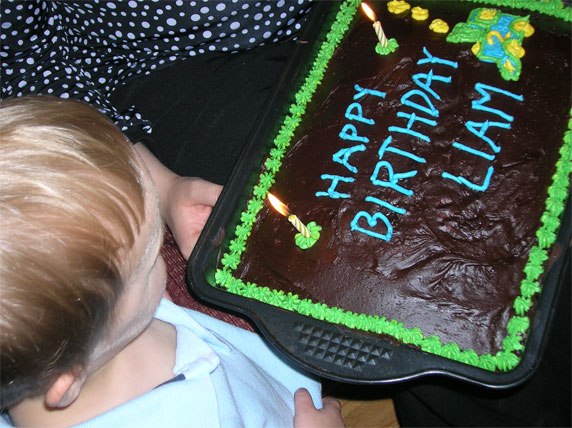 He seems to have enjoyed all his presents. He got a train set from Jon Boy's parents, pajamas (and the car and clothes) from my parents, a book from Granny and Grampy, and a wooden block-stacking train, a dump truck, some books, some sandals, and a set of pots and pans from us. Here he is playing with his train set.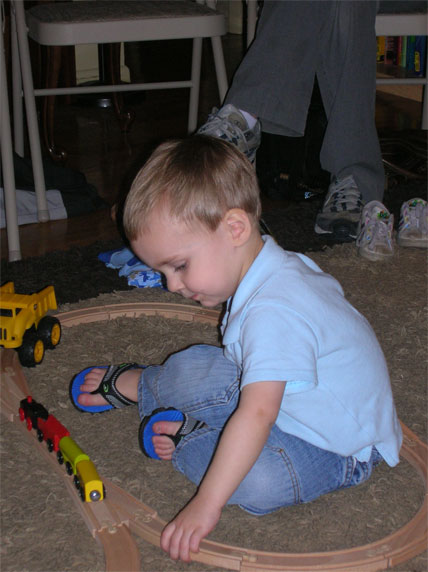 As we watched General Conference yesterday and today, Lego played with all his toys a lot. We have also read the new books about ten times each. I think his favorite is the one from Granny and Grampy, Go, Dog, Go!, or, in Lego's words, "Dog Go Go Go."
He seemed to have a great birthday. We officially have a two-year-old in our house. Excuse me while I go hide.